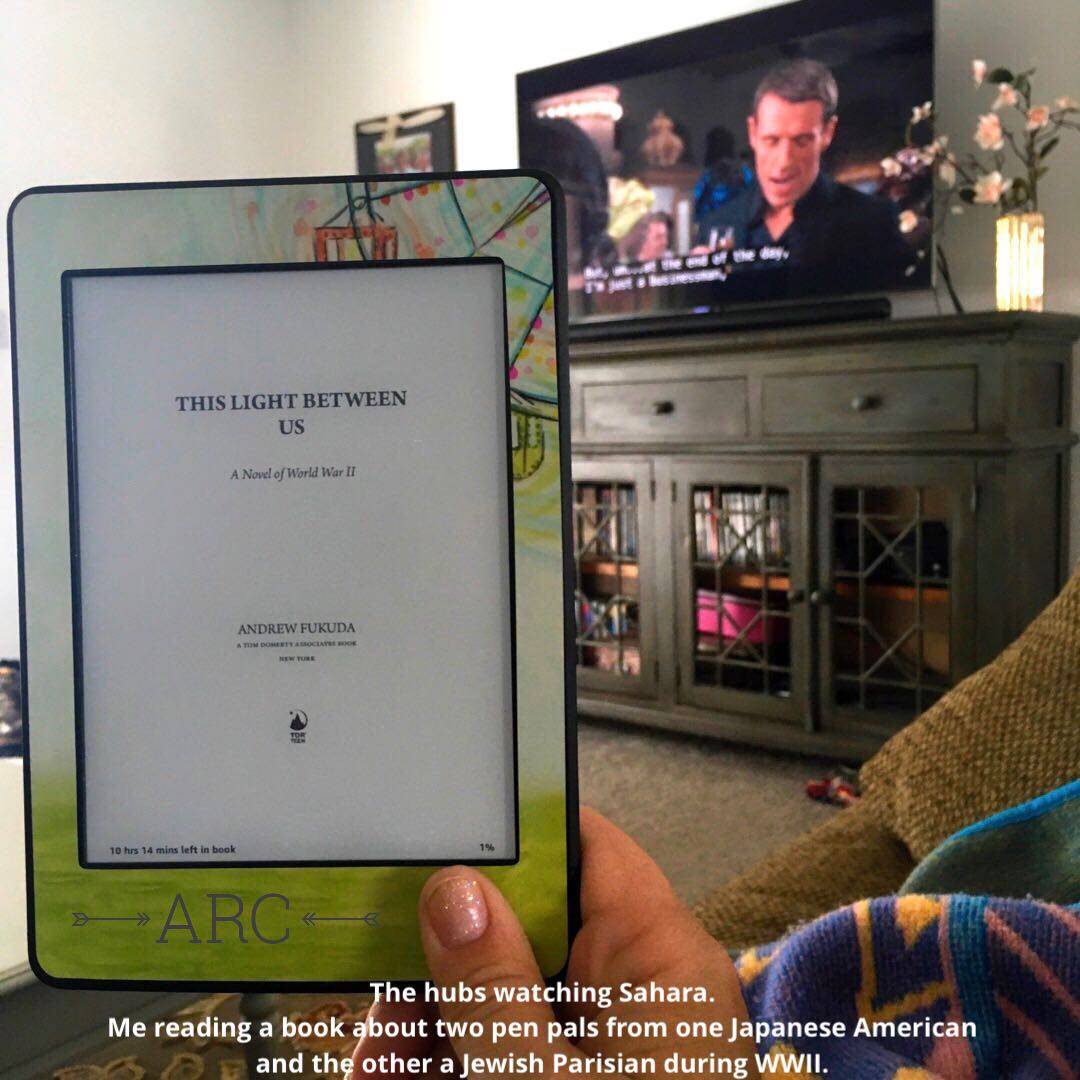 Description from the Publisher:
"For readers of The Librarian Of Auschwitz, This Light Between Us is a powerfully affecting story of World War II about the unlikeliest of pen pals—a Japanese American boy and a French Jewish girl—as they fight to maintain hope in a time of war.
"I remember visiting Manzanar and standing in the windswept plains where over ten thousand internees were once imprisoned, their voices cut off. I remember how much I wanted to write a story that did right by them. Hopefully this book delivers."—Andrew Fukuda"
My Review:
This Light Between Us by Andrew Fukuda absolutely broke my heart. I had previous knowledge of the numerous Japanese Internment Camps and what the people went through because I have an older friend who was three years old at Manzanar Relocation Center with his six family members. He refused to take the Reparation from the government because he was serving in the military when President Reagan signed the bill to give Compensation to all the survivors of the camp. He told me his story back in 2001. He is a patriotic man who wrestled with the two sides of his history just as Alex did.
The physical descriptions of the center, the treatment of the Japanese people was hard enough to read than Mr. Fukuda throws in a penpal friendship between Alex and Charlie, who is a Jewish girl residing in Paris. Between the Relocation Centers in the States and the Concentration Camps in Europe as parallel settings, the story gets even more impressive and traumatic. I have to be honest, I took a few weeks off reading this book because my empathetic heart broke so many times and I just needed a break from the pain. I am lucky that I can do such a thing since Alex and Charlie didn't have that option.
The anger, the pride, the hatred were papable characters of their own and this story although aimed at YAs is a must-read for all age groups. I can't give Mr. Fukuda enough praise for his style of writing. The Epistolary style is my favorite writing methods and sometimes in other books I've read, it doesn't cover enough of the sense of smell, feelings, relationships, and setting. This book did not let me down. It is up there with The Screwtape Letters by C.S. Lewis; Ella Minnow Pea by Mark Dunn; Alice Walker's The Color Purple, and The Guernsey Literary and Potato Peel Pie Society written by Annie Barrows and Mary Ann Shaffer. I know it is going to be a best-seller! I also think it would make a great movie.
I want to give an example of a paragraph that was a description in top-notch form. Let me set the setting: Alex and his family (his mother and brother, Frank,) are entering the Internment Camp along with the other first wave of prisoners and they see bleak tarpaper shelters in the middle of a near-empty desert: "Never judge a book by its cover. This is what they tell themselves. But once inside, their worst fears are confirmed. The book is worse than the cover. The walls are just wood sheeting, splintery and thin. No paint or insulation or plaster covers them. The floor is composed of wood planks with large knotholes slapped together. No linoleum covering. Placed around the room are seven army cots, metal skeletons. None with a mattress or a pillow. An oil furnace in the corner, standing cold as a tombstone. No desk, no chair, no running water, no toilet. Only a single bulb, unlit, hangs from a cord dangling from an overhead beam. Beneath it, coarse army blankets are thrown in a pile. Frank walks to far side. The wall—no more than a thin partition—doesn't reach the peaked roof, leaving a three-foot triangular space."
Can you see it? Do you feel the promise of a cozy shelter? Nope, neither did I. This one paragraph (which I hope the author didn't change) is just one of so many paragraphs that are even more detailed than this but I didn't want to use any of them as they would ruin the story. Trust me. This book is filled with brilliance for such a sad, sad, part of our history.
This Light Between Us has some romance, and fun in it too because like in all situations of life there ebbs and flows, highs and lows and somehow you have to lighten the load just to continue living. This is definitely a must-buy-to-re-read novel so that you can find other tidbits of truth in it. I am giving this a 5 star even though I feel it has earned more than that.
Five Stars!!!
Thank you to Netgalley, Andrew Fuduka, and Macmillan-Tor/Forge for the opportunity to read this beautifully written book in lieu of my honest review.
Do you like WWII novels? What is your favorite genre? How often do you read Historical Fiction?
I seem to be reading a lot of it lately which is not only enriching my empathy but also educational of eras I haven't lived in. #Netgalley #macmillan #andrewfukuda